The Retail Sector and Supply Chains: Connecting Some Dots
Unprecedented declines in retail sales are leading to large excess inventories and subsequently causing havoc along virtually every supply chain.  Let's start at the end and work our way backwards. First, cash strapped and fearful consumers cut back on buying stuff. This leads to excess supply in stores and a cutback on wholesale orders.
Less orders being made leads to less products being shipped, as witnessed in traffic declines in the latter half of 2008 in Los Angeles and Long Beach ports.
Lowered demand for finished goods leads to lower demand for the raw materials to produce said goods.
If that chart's slope isn't impressive for you take a glance at the Baltic Dry Index over the last year. 
The Baltic Dry Index is a daily average of prices to ship raw materials. It represents the cost paid by an end user to have a shipping company transport raw materials across seas on the Baltic Exchange.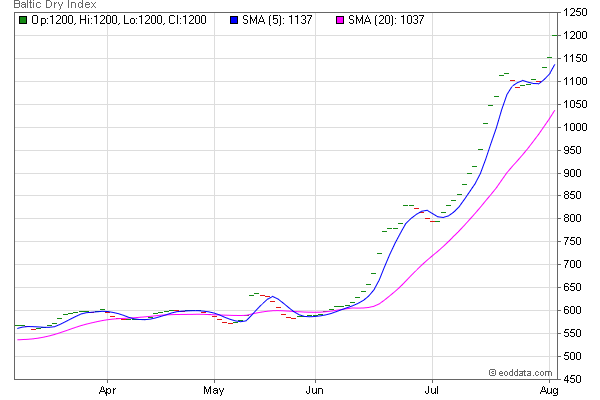 This dramatic decline is due to the rapid slowdown in the "global growth" phenomenon. In addition to this, credit has been nearly impossible to get for the purchase of goods and the payment of time charters on the vessels.